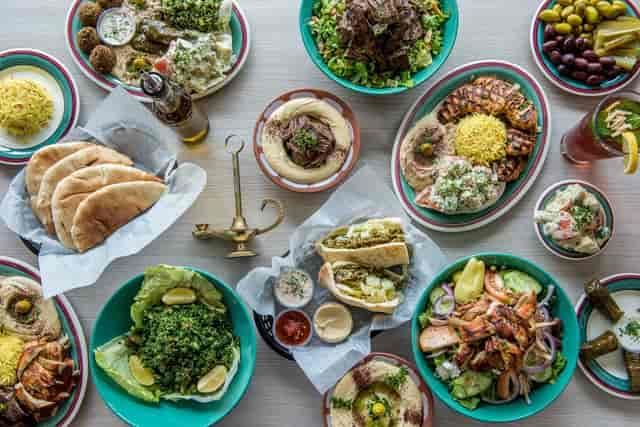 Sandy Springs Catering Menu
Become a VIP
Receive updates on special events, new menu items, menu reviews, and more!
Sandy Springs Catering Menu
Catering
Per Person.
A variety of menus available starting at $13.95 per person.
All orders must be called in at least 24 hours in advance.
All orders are prepared in disposable containers.
All orders must be picked up.
Free delivery for orders over $250.00 and within 5 miles. Delivery fee may apply to all other orders. Just remember, we can prepare any combination of items available on our menu.
Hummus
1/4 tray $24.95 | 1/2 tray $39.95 | 1 full tray $75.95
Baba Ghanouj
1/4 tray $26.95 | 1/2 tray $42.95 | 1 full tray $77.95
Tabouleh
1/4 tray $21.95 | 1/2 tray $37.95 | 1 full tray $69.95
Fatoush Salad
1/2 pan $38.95 | 1 full pan $69.95
Greek Salad
1/2 tray $39.95 | 1 full tray $75.95
Jerusalem Salad
1/4 tray $24.95 | 1/2 tray $39.95 | 1 full tray $75.95
Basmati Rice
1/2 tray $26.95 | 1 full tray $49.95
Falafel
1/2 tray $24.95 | 1 full tray $48.95
Shawarma
1/4 tray $31.95 | 1/2 tray $56.95 | 1 full tray $99.95
Mixed Kabob
A mixed tray of chicken tawook and Kofta kabob.
1/4 tray $42.95 | 1/2 tray $75.95 | 1 full tray $149.95